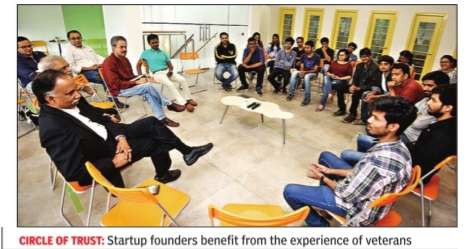 The idea: Despite India's startup ecosystem being among the top three in the world, the institutional capacity to support early-stage startups is still very low. IT and industry veterans Kris Gopalakrishnan, S D Shibulal, Tarun Khanna, Srinath Batni and Ganapathy Venugopal came together to address this. Axilor was founded with two main objectives: one, to improve the odds of success of startups in their first 12 months; two, promote entrepreneurship in areas like healthcare where the problems are large but entrepreneurial interest is low.
Benefits to startups: Space, seed fund from Axilor, mentorship for product validation, access to customers, and angel investors and seed stage VCs.
USP: 100-day accelerator programme where startups can make quick progress, build a product, sign-up customers and get funding. "They get to work closely with resident advisors on the riskiest parts of their business.Most graduating companies have early traction in revenues or user growth.The fast growing Axilor alumni network of founders, investors and mentors is something they can continue to get value from even after the programme," says Axilor's spokesperson.
Progress: Axilor has made over 20 investments and built a community of 80 founders. In the four batches of the accelerator programme, 30 startups have been supported.Axilor has opened applications for its Summer 2017 batch. It is looking for startups in consumer internet, enterprise, fintech, AI and healthtech.
Success stories: Place Of Origin, a graduate of the first accelerator batch, was acquired by Craftsvilla. Sellerworx, an investee company that enables sellers get online, recently got acquired by Capillary Technologies.
Originally published in The Times Of India.
< back to BLOG HOME