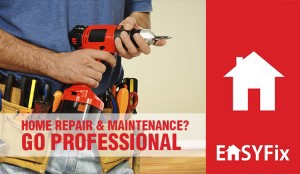 Winter is the time for comfort, for good food and for a talk with our family in a warm room which transforms into the coziest corner of the home. In the freezing cold, our house protects us. But do we take care of the house? If any repair problem arises, instead of getting professional help for it, we try to console our house with temporary solutions.
Often, we ignore the fact that one-time solutions are not reliable and can turn a small damage into a huge liability later on, whereas professional home repair services are always dependable.
Here are a few more things that you can expect from professional home repair services –
1. One call solutions
In its new avatar, the online home repair services industry is like a family doctor who is available on call 24×7. If any repair problem arises in the house, no matter what the time is, you can call these service providers and seek help. If the problem is small, assistance is provided on-the-call. But if the problem is serious enough to require a hands-on professional, it's only a matter of time before a repair expert will be knocking at your door. So whether you need advice or a prescription, either way, one call will do the job.
2. Transparency
When consumers who relied on local repair servicemen were asked why they were not happy with their local services? The most common answer they gave was that the local electrician, carpenter or plumber tended to over-charge them. This is not the case at all with online service providers. They have standard rates — applicable on a national level, for all their repair services. Moreover, you don't have to pay any advance unlike to a local serviceman, and the only time you pay is after your problem is fixed and you are fully satisfied.
3. Trustworthy
Whenever there is a requirement of a plumber, electrician, carpenter or any other home repair handyman, we prefer to consult our neighbours, just because we trust them, as well as their advice. To feel safe and secure, we generally avoid calling a local serviceman without a reference. Online home repair service providers assume a sense of responsibility to address the concern people have and strive to deliver reliable and guaranteed service.
It is a good thing that people have started choosing these online service providers over local servicemen for all their home repair issues and are not compromising on anything when it's about the well-being of their sweet home.
Originally published on EasyFix's blog.
< back to BLOG HOME