Axilor Ventures was founded in 2015 to help startup founders improve their odds of success. With a spacious office located on 15th Cross Road, KR Layout, JP Nagar, Axilor Ventures helps startups through three main programmes:
Accelerator program (idea to pilot stage)
Scale up (Move from pilot to launch)
Early-stage funding ( Rs 75 lakh– 3 crore for a significant minority)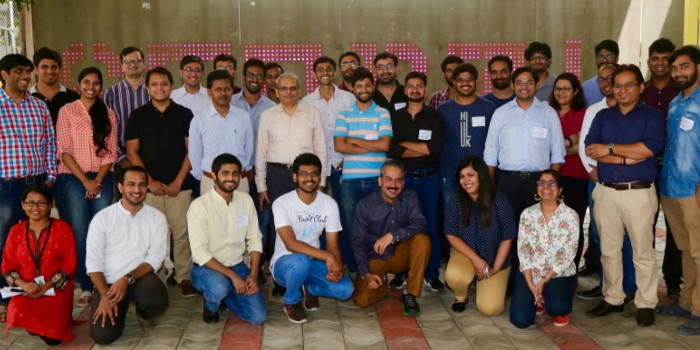 Axilor Ventures counts industry veterans SD Shibulal, Kris Gopalakrishnan, Prof. Tarun Khanna, Srinath Batni, and Ganapathy Venugopal in its founding team. Talking about Axilor's vision, Kris notes,
We founded Axilor with a vision to improve the odds of success of entrepreneurs in the early stages. Axilor's 100-day accelerator programme gives founders a head start and helps them get their startup on a trajectory for a scalable and sustainable business.
Category: E-commerce
Founded by the duo of Ashwin Koorakula and Uday Kiran Reddy Thota, Bueno Labs is an e-commerce enabler that is trying to solve the problem of low checkout conversions for SME e-commerce merchants by creating a platform that optimises the checkout process. With their flagship — Xpresslane — a conversion optimisation product, the startup can help e-commerce websites improve their checkout conversion rates by up to 20 percent.
Category: Fashion
Founded by Vikas Jethnani, Vishal Chitravanshi, Raj Parakh, and Komal Prajapat, Fabulyst's vision is to help every woman have a personal stylist for her online shopping needs. Through an app, Fabulyst provides an assisted online shopping, personal styling, and style consultation experience to users.
Fabulist's USP includes a stylist who handpicks apparel for users based on choice, fit, mix-and- match options, etc. The startup uses proprietary machine learned algorithms (patents pending) to make the experience scalable.
Category: Business analytics
Founded by the trio of Kewal Krishna, Sandeep Singh, and Ankit Goyal, InsightsIO is a venture in the consumer insights and business analytics space. As an end-to-end decision-making platform, it helps enterprises collect, analyse, and report data for faster and more effective data- driven decisions. Enterprises can create polls, surveys, and quizzes and then measure customer and employee feedback.
Category: Fashion
Founded by Varun Ungurala, MatchBox is a wardrobe organiser app that helps users organise their existing apparel, accessories, and footwear for easy mix-match and create unique personalised looks for the fashion-conscious millennials.
The USP is to help users 'look different every time you step into the same meeting room' without having to buy new clothes. The app also helps users plan their clothes and add them their calendar plans.
Category: Travel and accommodation
Founded by Pranav Prabhakar and Sandeep Jaiswal, MiStay is a travel tech company that allows customers to book hotel rooms in slots with flexible check-in and check-out times. This helps customers save money and better plan their trips and helps hotel owners better manage their inventory and maximise profit while minimising room vacancy.
MiStay is currently operational in eight cities in India, with partnerships with over 50 hotels. It also partners with corporates to manage their employees' travel needs.
Category: Solar
Founded by Deepak Kumar, Vishnu Raghunathan, and Dilip Kumar, Lytyfy has developed a new kind of SaaS solution — a solar-as-a-service model of providing power to rural areas. The venture capitalises on technology, microfinance, and community engagement to promote clean energy access in rural India. Lytyfy has an online loan crowdfunding platform for retail investors to invest in off-grid rural solar projects. The startup has so far raised close to Rs 4 lakh from 49 investors and disbursed it to 225 borrowers.
Category: Fashion
Founded by Vedanta Kumar, Ankita Sancheti, and Saksham Karwal, SeenIt is a virtual community of fashion enthusiasts that helps consumers find the things they want but don't know where to buy.
It is a curated, community-led platform to discover upcoming styles and trends. Users can go on 'quests' on different themes like 'similar to', 'goes with', and 'this or that'. This is available for men, women, and children across categories like clothes, accessories, and beauty.
Category: Finance
Founded by the trio of Pranay Bharadwaj, Satya Prakash, and Pratham Sehgal, Trustio is an invite-only platform for alumni of premier colleges to avail short-term credit from their fellow alumni. The platform uses a proprietary credit-scoring model that relies on education, professional experience, and the number of backers from the community.
Trustio helps with vetting the repayment capacity of the borrower, taking care of legal processes, and automating the repayment EMIs. Currently in the pre-launch stage, young graduates will be able to borrow money from their alumni at rates cheaper than market without any credit history. These loans are then repaid as EMIs within a year to the peers and alumni who invested.
Category: Cloud solutions
Founded by Pradeep Kumar, Totalcloud is a visual and interactive environment which enables enterprises to manage and operate their cloud infrastructure in real time. Currently supporting Amazon Web Services (AWS), some of the use cases include cost management, resource utilisation, and real-time inventory.
Key learnings and takeaways
Having spent almost 100 days at Axilor, the startups noted the key benefits of working out of an accelerator and their top takeaways from their 'accelerated' startup journey. The top takeaways ranged from finding product-market fit to building self-belief and also the opportunity to network and build industry contacts.
Axilor Ventures is currently accepting applications for its summer '17 accelerator batch. Apply here
Originally published on YourStory.
ABOUT THE AUTHOR:
Harshith has been tracking the Indian startup ecosystem for about two years. You may find him at startup events, sticking his nose in other people's business, looking for his 'next big scoop'. An alumnus of Manipal Institute of Technology, Manipal, he is a keyboard warrior and couch potato. You can connect with him on LinkedIn, Twitter or Facebook.
< back to BLOG HOME