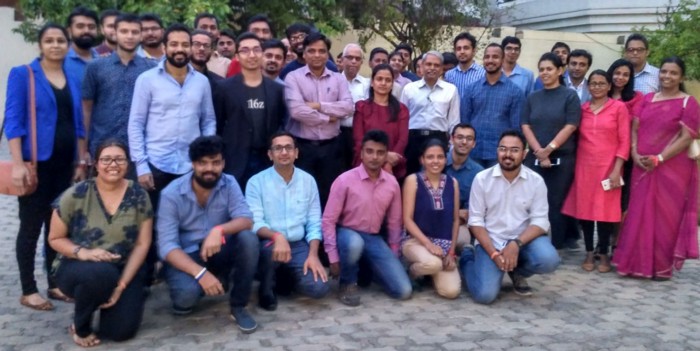 (This article concludes a two-part series on Axilor's Summer 2017 accelerator batch. Applications for its Winter 2017 batch is open currently)
About a 100 days back, I wrote to share our excitement from inducting the largest accelerator cohort in India comprising 20 startups. The graduation day saw some amazing startups emerge from the program with great outcomes. This blog is to share that story. With the call for applications for Winter batch open now, it is also a good time to let early stage founders know why these results should matter to them.
In March of this year, we inducted 20 startups, as part of our fifth accelerator batch. The cohort had startups from five sectors — consumer internet (4), enterprise (6), fin-tech (3), health-tech (3) and deep-tech (4). At the time of joining, most of them were boot-strapped and 90% of them had already launched with over half of them in pilot to early revenues.
So who are some of these amazing startups that emerged from the program? Here is a quick look at some of the startups that recently graduated,
one of the fastest growing self learning apps (Knudge.me)
– one of the fastest growing vernacular self-expression platform (yourquote.in)
– one of the deep-tech startups with a solution to make cancer screening painless, non-invasive and inexpensive (Niramai)
– a deep-tech startup running a pilot for one of the largest industrial conglomerates in the world (Detect). Incidentally, Detect also won ET's best student startup awards!
– the fastest growing GST app in play store (Taxgenie)
– the largest market-place connecting casting directors and actors (Castiko)
– one of the fastest growing DIY legal documentation startups leveraging India Stack (Legal Docs)
While 100-days appears like a short span of time, it is always amazing to see how far the startups can progress with the right kind of focus, help and access. For early stage founders, three outcomes should matter —
How much did they accelerate their progress?
What milestones did they meet (most notably funding)?
What business momentum they have built?
On all these three fronts, the program delivered great outcomes.
a. The average acceleration (multiple of exit traction metric to entry traction)for most startups has been 3X, with two of them hitting 10X! Customer access is key to this acceleration — on an average, each of the non-consumer startups had over 4 enterprise connects (with many of them leading to pilots) through our Customer Round Table program. Consumer startups worked more deeply on their product with our resident advisors to build sticky products that drove user growth.
b. Scale requires capital. And fund raising can be difficult, time consuming and tiring. That is the second aspect the program delivers on. Besides access to Axilor's pre-seed funding program, each of the startups on an average got to meet 4 VCs — mostly one-on-one's. The one-on-one formats allow for deeper investor engagement and also get some useful feedback, rare in a demo day format. The results have been amazing — 50% of the batch (10 startups) closed their seed rounds with fund raises in the range of Rs2–3 crores! I expect another 4 to close in the next 30 days — which should take the ratio to 70%.
Startups are prone to ups and downs especially with the funding cycles. Last quarter alone saw a 27% drop in the number of seed deals and the investor sentiment turning more discerning. In this environment, the 33 funds who met with our startups feels like a great vote of confidence. Such investor access greatly improves early discoverability for startups.
c. Most startups also exit with significant business momentum. Enterprise startups exit with an early portfolio of customers. Some even have struck partnerships that provide them a quick go-to-market for sales or opened a completely new segment. Most consumer startups end up with sharply defined target users. They also have results from experiments in growth and monetisation. These two provide them the right inflection to scale. Early pilots with large customers provide the deep-tech startups with much required data to train their algorithms and improve their product.
All these outcomes are great for startups. But there is one other important outcome which is not so obvious — change in the founders' mind-set. In their own words, some discovered completely new possibilities for their startups, some discovered their funding narrative, some hit on the right path to growth, some found focus and some pivoted. And most realised how much more they can achieve in 100 days. All this without spending a lot of upfront capital! This is possibly the most enduring effect of the program.
In mature startup ecosystems, good accelerator programs attract the most ambitious founders and improve their odds of success in a predictable way. As per one data point, 75% of Series A funded startups in the US come from only four programs. Despite matching US in terms of number of new startups, India has been lagging in good accelerator programs. The models till now have been template-driven. The template would look something like this — select a small cohort of startups, provide them pre-seed funding, have a roster of advisors, provide administrative support and culminate with a demo day. But this template misses three important elements most useful to founders in early stages — (1) a large market network that provides access to customers, partners and investors, (2) scale that allows founders working on similar problems to learn from each other and (3) a community that can easily pilot, offer solutions and in general make finding help easy. The Axilor program, with focus on these, offers a predictable path to scale and startup success. Most startups exit the program with a capital runway of 12–15 months, business momentum and a clear roadmap for scale.
Axilor today works with startups in five sectors — consumer-tech, enterprise, health-tech, fin-tech and deep-tech. That covers 90% of the startups — making the program relevant to most early stage founders and a smart choice for the ambitious ones.
Axilor can be seen in many ways — most simply as a set of programs, a model that can systematically improve the odds of success of early stage startups, or a new venture funding model. But at a fundamental level, it is also an idea. An idea whose time has come! The performance of our most recent batch explains why.
< back to BLOG HOME