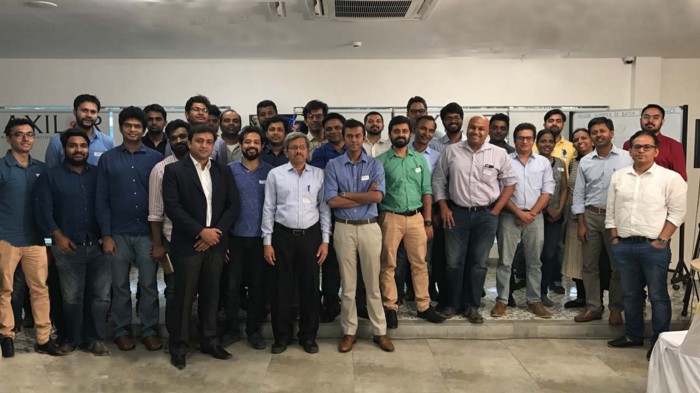 Last week we inducted our new accelerator batch. This is our fifth batch and we have run four such batches in the last two years. Nothing remarkable except that the recently inducted Summer '17 batch of 20 startups is the single largest accelerator cohort ever run in India. I have always argued that the institutional capacity to support early stage startups in India is quite low — whether it is the accelerator programs to systematically improve the odds of success of startups, the market access that startups need in their early days or the angel investment capacity to support early stage startups. This has been Axilor's mission and by doubling the capacity this batch we have taken the one more step to bridge this gap.
Getting to be the first one to do something is exciting. But this article is not about Axilor. It is about the startups who have joined the program and what such a program can mean to the startup founders and the broader startup ecosystem, in general.
The Rubik's cube of 20 startups of the Summer '17 cohort can be turned several ways — the most common being sector, stage and business models. These are straightforward — the cohort comprises 4 in consumer tech, 6 in enterprise, 4 in AI, 3 in health-tech and 3 in fin-tech (Meet the Summer 2017 cohort). 80% of them are product companies — 10 serving enterprises (8 of them global), 6 serving consumers and another 4 hospitals/doctors. All but 2 have already launched and in early to advanced stages of traction. Ten out of the 20 are post revenues.
But sector, stage and business model comprise only half the story. It is always interesting to know the nature of the problems they are trying to solve and more interestingly the founder background and their motivations and beliefs. The cohort of 20 startups and 52 founders makes for some interesting statistics. We have 9 out of the 52 founders who are less than a year out of college (some graduating only next month!) to very experienced folks starting up. While the median years of experience is 6 years, 2 years on an average has been spent working on a problem similar to their startup idea. One third of the founding teams started out because they had worked on this problem before in their previous jobs or had a better way to solve the problem — a key source of proprietary insight. It does make for a diverse group but there are some common things they share as well — all of them believe in the need for early validation, building proprietary insights and the power of driving organic traction in early stages!
Talking of subcohorts, while it is easy to slot companies by sector, I believe the nature and scale of problems they are addressing is more interesting.
Talking of subcohorts, while it is easy to slot companies by sector, I believe the nature and scale of problems they are addressing is more interesting.

We have startups like Multibashi, LegalDocs and TaxGenie who are addressing some large but uniquely Indian problems. Be it about helping learn new languages, using Aadhar to get legal documents registered or getting GST compliant, it is all about addressing the new economy.

At the same time teams like Maroon, Rucept, Adya are focused on large global enterprise opportunities working on sales & commerce monetization and enterprise threat management — solutions which cut across geographies and enterprises. And then for the millennials there is Gig and Yourquote.

Then there are the deep-tech startups — Niramai, Orbuculum, Detect and Transporter.city — who are using AI & machine learning to solve some really tough age-old problems in health prognosis, industrial asset monitoring and logistics.

There at least three startups Extraaedge, Treatgo and Knudge that are going after incredibly large but underserved markets. There are three others that are trying to make healthcare accessible and affordable — Healthfin, Talkadoc and Pocketpill. And finally we have startups like CoPro and Castiko working on seemingly obvious but unsolved problems in crowd analytics and talent discovery.
As founders there are always more problems than there is time to manage them. So, knowing which problems to focus on and when to seek help separates the smart founders. In mature ecosystems like in the US, it is these aspects that successful accelerators have been able to provide startups, besides the obvious value of improving discoverability among investors. This also means that the founders need to focus on the right things (and not merely funding), be ready to seek help and take advantage of the market networks of accelerators that will allow them to move with speed. I am beginning to see that change among founders — at least the ones who have joined us this summer. Unlike our previous batches, majority of the startups are post-launch and many post revenues. Some of them need customer access to validate need or scale, a few others would like to figure out the business models and some need help with building the product roadmap and finally funding, in that order. Axilor's program delivers these. Our market network provides the startups the much required customer access, resident advisors (most of them experienced founders) to work with startups on the riskiest part of their plan and investor access. One big source of value comes through admission to the Axilor founder community itself — with over 100 founders within the Axilor community they have one degree of separation to any problem they may have, not to mention customers they can reach out to. In fact, one of the most valued aspect of the program is the simple rigour of the weekly goals — small progress made consistently over a long period of time is a lot of progress!
A marathon is a common metaphor to describe a long journey which requires perseverance, especially like the ones startups undertake. But it is misleading — while certainly hard, 99% of those who start actually complete it. In my mind, mountain climbing is a more apt metaphor — first it is hard, second it defies gravity and third most importantly the success rate for completion is low. And as most climbers know, a climb towards a steep goal consists of firm steps. Axilor was set up with a vision to be a platform to help early stage startups succeed — a model that can systematically improve the odds of success of early stage startups, create a market network connecting innovations to those who need them the most, create a community of founders who can learn from each other and finally improve the quality of the pipeline for later stage investors. This is an important milestone in that journey.
< back to BLOG HOME