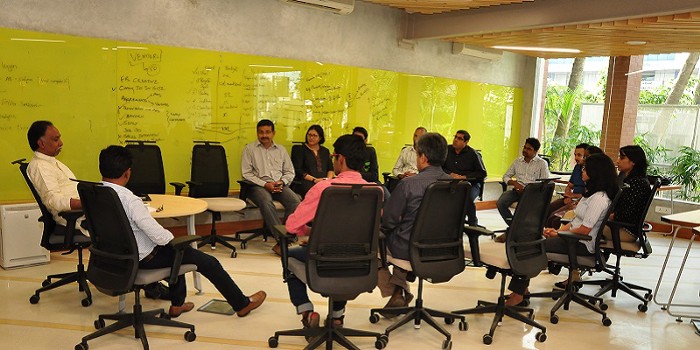 [ This article is part of the YourStory series Startup Hatch, about incubators and accelerators in the startup ecosystem. See earlier profiles of incubation and acceleration initiatives at IIT Bombay, IIM Bangalore,BITS Pilani, NCL, Tata Elxsi,NID, IIIT-Bangalore, IIIT-Hyderabad, Vellore Institute of Technology, and PSG Coimbatore. ]
Ganapathy Venugopal is CEO of Axilor and former Head, Strategy and Planning, Infosys. He has 16 years of experience in strategy, planning and consulting, and also serves as a Member of the Board of the Information and Communication Technology Academy of Kerala (ICTAK).
Ganapathy holds a bachelor's degree in engineering and a post graduate degree in management from IIM Lucknow, and is an avid reader and idea collector. He joins us in this interview on the objectives, achievements and plans of the Axilor accelerator.
YS: What was the founding vision of your accelerator, and which companies are currently being accelerated?
GV: Axilor was founded with the vision of improving the odds of success of entrepreneurs in their first 24 months. Our four programs — Accelerator, Seed, Entrepreneur-in-Residence and Early Stage Funding programs — are designed to improve the odds of success of entrepreneurs in different stages of their startup journey.
The first batch of startups joined us in March 2015 and are just concluding their 100-day program; applications to the second accelerator batch are now open. We take a 12 per cent stake in accelerated startups. The companies in this batch include Place of Origin and Discover Dollar. Startups which have received direct investment from us include
Place of Origin brings India`s most famous foods and producers to your doorstep. You can view, research and order foods from artisanal producers from all over India.
Discover Dollar helps retailers to detect and resolve overpayments, missed discounts and un-recovered vendor incomes. Its algorithms can scan through available data sources including unstructured data like emails and contracts and notify relevant people in your organisation about potential overpayment and resolve it online.
YS: What is the profile of your management team?
GV: Axilor was founded by Mr. S.D. Shibulal and Mr. S. Gopalakrishnan, Co-founders Infosys; Professor Tarun Khanna, Professor at Harvard Business School; Mr. Srinath Batni, former Director at Infosys; and myself.
The executive team at Axilor is a lean team comprising professionals with expertise in technology, investments and sales. They have several years of experience of working with entrepreneurs and early stage startups. Udhay Shankar leads the accelerator program, Ms Payal Shah heads investments and Mr Thomas Payyapilli leads partnerships and sales enablement.
YS: What would you say are the Top Three opportunities for Indian startups?
GV: Axilor believes that the sectors among the most ripe for entrepreneurial disruption are e-commerce, healthcare and life-sciences, and clean-tech/sustainability.
In e-commerce, there are several exciting innovation possibilities to enable the sellers in serving niche or unaddressed segments, addressing the needs of different segments through contextual innovations, and harnessing the combined power of offline and online models to do any of the above.
In health-care and life-sciences, there are tremendous innovation possibilities that directly improve health outcomes — the innovations should directly improve access, affordability or effectiveness.
In clean-tech and sustainability, there are many exciting innovation opportunities as well that can improve efficiency of energy storage and distribution, minimise wastage, and optimise energy consumption through automation.
YS: What are the key challenges faced by startups in India, and how can you help bridge the gap?
GV: There are three key challenges that most entrepreneurs face in their first 24 months. First, they don't have access to expertise or peer feedback that allows them to avoid 'predictable mistakes' at different points such as idea validation, pilot, launch or scale.
Second, they also spend a lot of time and effort on problems or issues that are not core to their business. They ignore many basic things in setting up the right way that impacts them as they scale and get ready for fund-raising.
Third, they spend almost four to six months of founders' time in raising funds in their first 24 months.
At Axilor we bridge these gaps through our programs. The entrepreneurs go through a structured program that will help them reach their milestones faster, have continued access to capital based on business traction, get access to dedicated experts to help them launch and scale, and become part of a peer community of entrepreneurs who will help them solve problems rapidly.
YS: What is the selection criteria for startups in your accelerator?
GV: We look for disruptive ideas from entrepreneurs focused on building businesses that are technology-led and less capital intensive in the three sectors of interest to us — e-commerce, healthcare and life-sciences, and clean-tech/sustainability.
At early stages, the single most important predictor of how well the startup will do is the quality of the team and their determination. We look for gritty entrepreneurial teams who have demonstrated determination, learnability and problem-solving.
YS: What support and services do startups receive in your accelerator?
GV: Axilor has a framework that helps entrepreneurs improve their odds of success. This is focused around the following areas: launching the startup the right way, access to the right capital at the right stage, dedicated mentorship, access to the Axilor peer community of entrepreneurs, and a series of masterclasses from industry experts to help learn how great startups are built and what mistakes to avoid. We seem to be differentiated by the fact that we take a holistic view of all the support that an entrepreneur needs in the first two years.
YS: What would you define as success for your accelerator?
GV: At Axilor, I will define our success in three ways. First, we should have improved the odds of success of our entrepreneurs. Second, the programs run by Axilor should become the most aspirational and respected for entrepreneurs. Third, our startups should have created impact in the spaces they operate in — whether it is e-commerce, healthcare or clean-tech.
YS: How do you compare and contrast India's accelerators with that of other countries like US and China?
GV: There are three ways to look at it. In terms of sheer numbers, US and China have almost ten times the number of accelerators that India has. So, we could definitely do with more! The biggest learning we can take away from these two countries is how well their academic institutions are connected with entrepreneurship, especially in tech-led sectors.
That said, I think in the last three years, a diverse set of models for accelerators have come into existence. Even about three years back acceleration or incubation was largely restricted to academic institutions. Today we have more than 20 private incubators or accelerators helping entrepreneurs in their early stages. Our challenge is in scaling some of these models and replicating the ones that are successful.
Given the stage we are in, I think accelerators can make a big difference to the entrepreneurial output. They can certainly improve the quality of the pipeline in sectors like e-commerce which is attracting a lot of entrepreneurial and investment activity. In sectors like healthcare and clean-tech, the challenge is in generating the pipeline of ideas and entrepreneurs.
YS: What are your plans for the coming three to five years with respect to new startups?
GV: Axilor is in its first year of journey. In the next three years, our goals will plans will focus on improving the odds of success of 125 entrepreneurs through our programs. We will attract more entrepreneurs in sectors like healthcare and clean-tech where there is a big gap between problems and entrepreneurial interest, and support 40–50 ideas.
We also wish to build a strong peer community of entrepreneurs and create a respected platform for entrepreneurship that will add value to entrepreneurs beyond the Axilor alumni.
YS: What are your recommendations for Indian policymakers to make business easier for accelerators, investors, and startups in India?
GV: There are two levels at which we can look at this. One, whatever is good for businesses in general is good for startups as well. And from whatever we are hearing, there is a lot of focus on improving the operating environment for businesses.
Second, making policies that will specifically address startups and entrepreneurs. There is a view that is gaining in strength that the operating environment can be made simpler specifically for startups. The new set of listing norms for startups is one such example. Early stage financing which is very important for startups can be made simpler. We could look at some of the onerous regulations that make sense only after a certain level of turnover so that the entrepreneurs spend more time on building their startups.
I know that an expert committee has been set up by the NITI Aayog under the chairmanship of Prof. Tarun Khanna to look at what needs to be done to promote innovation and entrepreneurship.
YS: What are your recommendations to the startups and entrepreneurs in our audience?
GV: To the startups and entrepreneurs, I would say three things. Balance your founders' intuition with evidence. The only reality that matters is that of the customer. At every stage, validate if you are working on something that people actually want and seek proof — it could be something as simple as user feedback, asking yourself how your customers are going about their lives without your product/service, or who else is serving this need and how well!
Don't give up too early (if you are faced with challenges) nor persist for too long (if your customers are not as excited about your idea as you are!). Entrepreneurship is courting adversity — you have to know the limits.
Entrepreneurship can be a lonely journey — don't hesitate to ask for help. Make sure you are surrounded by people with whom you can share, learn or seek advice. Time is the most critical asset you have — spend it on finding unique solutions to problems that are core to your idea.
Originally published on YourStory.
< back to BLOG HOME